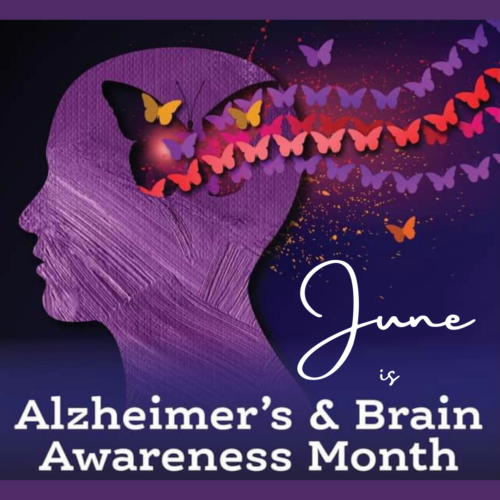 Alzheimer's is a fatal disease that kills nerve cells and tissue in the brain, affecting an individual's ability to remember, think and plan. Ultimately, those with the disease will lose their ability to communicate, recognize family and friends and care for themselves.
June is Alzheimer's & Brain Awareness Month — an opportunity to hold a conversation about the brain, and share the fact that Alzheimer's disease and other forms of dementia are a major public health issue. Everyone is at risk to develop Alzheimer's, but there are some things that can help slow the onset or possibly prevent the development of the disease.
The number of people with Alzheimer's disease and other forms of dementia is on the rise. According to the Centers for Disease Control and Prevention (CDC), in the United States alone, there are currently 5 million adults living with Alzheimer's. This number is likely to triple within the next few decades.  As the population continues to age, it is becoming increasingly important to be able to identify modifiable risk factors for conditions such as Alzheimer's, as well as any lifestyle changes that may prevent neurodegenerative conditions such as this from developing in the first place.
New research points to nutrition as one such factor. Eating a diet rich in fruits, vegetables and whole grains and low in animal products, such as meat and dairy, lowers the risk of cognitive decline in later life.
Data available from the National University of Singapore Chinese Health Study, examined a population cohort study of 63,257 Chinese people living in Singapore.  As part of this initial study, adults aged 45–74 provided information during face-to-face interviews about their usual diet, cigarette smoking, alcohol consumption, physical activity, sleep duration, height, weight and medical history.  This occurred at baseline, between April 1993 and December 1998. Researchers interviewed the participants again during three follow-up visits, until 2016.
For the revised study, researchers used this previous data to select information on 16,948 people, aged 53, on average. These participants only completed cognitive function assessments during their third follow-up visit, in 2014–2016.
To assess the participants' eating habits, the researchers used five dietary patterns:
the "alternative Mediterranean diet," which is a tweaked version of the typical Mediterranean diet
the Dietary Approaches to Stop Hypertension (DASH)Trusted Source diet
the alternative Healthy Eating Index
the plant-based diet index
the healthful plant-based diet index
All of these diets are similar in their emphasis on plant-based foods. The latter two indexes assign positive scores to eating plant-based foods and reverse scores for eating less healthful plant foods or animal foods.
In 2014–2016, 2,443 of the participants (14.4% of them) had cognitive impairment.  The researchers found that people who had strongly adhered to the five dietary patterns outlined above during midlife were less likely to develop cognitive impairment later on. Specifically, those whose diets the researchers deemed most similar (in the top 25%) to those five dietary patterns were 18–33% less likely to develop cognitive impairment than those with the least similar diets (in the bottom 25%).
Another way to help ward off the onset of Alzheimer's and keep your brain functioning optimally is through exercise.  Several studies have looked at middle-aged people and the effects of physical exercise on their thinking and memory in later life. Combining the results of 11 studies shows that regular exercise can significantly reduce the risk of developing dementia by about 30 per cent. For Alzheimer's disease specifically, the risk was reduced by 45 per cent.
Aerobic exercise has also been shown to affect the brains of healthy older people. In a modest-sized controlled trial, one year of aerobic exercise resulted in a small increase in the size of the hippocampus (the key brain area involved in memory), which was the equivalent of reversing one to two years of age-related shrinkage. A study of 638 people in Scotland that asked people about their activity levels found those who were physically active at age 70 experienced less brain shrinkage over three years than those who were not.
Acupuncture and East Asian Medicine are also great ways to help keep your brain healthy.  With regards to Alzheimer's and dementia, acupuncture has been shown to improve brain function by increasing circulation to the brain, improving oxygen flow and reducing stress hormones like cortisol while increasing serotonin, dopamine and acetylcholine, a neurotransmitter specific to memory.
Recent research supports this claim.  A recent clinical trial in Hebei, China tracked the progress of 50 people with Alzheimer's. The control group received donepezil at a dosage of 5 mg daily and nimodipine at a dosage of 30 mg three times a day, while the experimental group took a Chinese herbal formula twice a day and had daily, 30-minute acupuncture sessions. After three-months, both groups had improved cognitive function, but the experimental group saw significantly greater improvements. This led researchers to note that acupuncture, when combined with herbal medicine, is an effective treatment option for patients with Alzheimer's disease.
This June, during Alzheimer's and Brain Awareness Month, take the time to schedule an appointment with us.  It's the perfect time to start preparing for the rest of your life.
What's your reaction?